The battle of Westerplatte. Westerplatte is one of the most iconic places related to the history of World War 2 in Poland. This small piece of land is squeezed between Wistula river and Gulf of Gdansk. Between 1926 and 1939 Westerplatte area was Polish

enclave and Military Transit Depot manned by a Polish defene unit.
So why battle of Westerplatte is so significant for World War 2 history? On September 1st 1939 at 4.45 am, the German battleship Schleswig-Holstein opened fire with her main battery at the Polish positions on the Westerplatte Military Depot.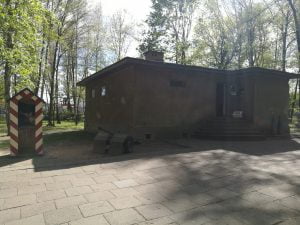 From a military point of view the battle or defence og the Westerplatte peninsula was not important at all. The number of Polish soldiers could not hurt German troops located in Free City of Danzig or East Prussia. The German Propaganda Ministry sent a camera team to Free City of Danzig a wef days before. They filmed the battle to show in German cinemas a few days later! Unfortunately for Nazi propaganda Germans could not smash Polish garmison.
Polish soldiers defended the area for seven days instead of 12 hours as Nazis has planned. To be honest, it was a propaganda and military fiasco for Germans. Roughly 200 Polish infantrymen fouhgt against more than 3000 German soldiers and police. After seven days, on 7 September the terms of an honourable capitulation were accepted. The main reason was lack of fresh water and medicine. The number of Polish casualties is 15 killed and around 40 wounded while Germans lost at least 50 men.
Nowadays, the Westerplatte peninsula is home to a cemetery of the fallen Polish soldiers, the ruins of the barracks and Gatehouse No. 3, as well as a monument commemorating Polish soldiers who defended the coast all-over the world.
Among the original network of guardhouses, the guardhouse no. 1, the only extant building of the former Military Transit Depot. The guardhouse houses a small exhibition showing the armament, equipment and conditions during the battle.
If you are interested to visit Westerplatte, contact me to schedule sightseeing. Westerplatte is one of many traces of WW2 in Gdansk area. You will find more details about WW2 trip HERE