Battle of Heilsberg or battle of Lidzbark Warminski was the largest Napoleonic battle fought in the field in today's Poland. Do you know what has happened on 10th of June 1807 close to Heilsberg?
I am not sure if you have heard about Battle of Heilsberg. It was one significant moments during War of Fourth Coalition. French and Russo-Prussian troops clashed not so far from Heilsberg / Lidzbark Warminski castle.
Two weeks before the battle, Prussian troops capitulated after siege of Danzig. It gave Napoleon the opportunity to engage the Russian forces. Then general Benningsen ordered his troops to fall back on. After a few days Russiand built fortifications close to city of Heilsberg. The French emperor's troops (totalling around fifty six thousand) clashed with Russian and Prussian troops (who outnumbered the French, with about ninety thousand men).
The commander of Russian troops was general Levin August von Benningsen. The Battle of Heilsberg was fought on the Alle river, known today as the Łyna. The Russians had built extensive fortifications on the right bank of the Łyna / Alle river. Napoleon did not arrive on the field in person, That's why Joachim Murat and Jean Lannes were main leaders of French troops. The battle ended the day after on 11th of June 1807. To sum up, battle of Heilsberg is recognized as having been tactically indecisive. Russian troops were able to fall back in order avoiding huge looses. Post war analysis shows this was a successful Russo-Prussian rearguard action. The Battle of Heilsberg was fought four days before the decisive Battle of Friedland.
I love visiting Warmia and Lidzbark Warmiński. Here nature and history are so close to each other. The historical Varmian cities and villages shows heritage of former Prince-Bishopric state. Old linden avenues leads me through beautiful hills and valleys. You can visit Frombork, Lidzbark Warminski or Dobre Miasto in one day. Or you can take a deep breath, slow down and change you plans. Warmia is a place for slow tourism. Many Varmian cities are members of CITTASLOW network.In other words Warmia & Lidzbark are worth to spend more time. If you want to explore Warmia, just contact me.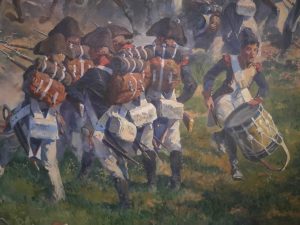 Lidzbar Warmiński is historical city of Warmia knows as Ermland in German. The Warmia area was part of Poland between 1466 and 1772. Warmia was a semi-independent ecclesiastical state, ruled by the Bishop of Warmia. The official name was The Prince-Bishopric of Warmia.
I used to drive around 2 hours from Gdansk to Lidzbark Warmiński. If you want to drive to Lidzbark Warmiński from Warszawa, it will take 3,5 hours. Since 1958 the beautiful gothic castle hosts the Museum of Warmia in Lidzbark Warmiński. The Lidzbark castle is the best preserved gothic castle in Poland. The museum exhibition is very interesting. There are some remains from Napoleonic period as well. You can take a closer look at battle of Heilsberg mockup. Furthermore there is a giant painting showing the battle of Heilsberg. I like to study details of the painting, uniforms and behaviours of soldiers.
Did you know that famous Polish astronomer Nicolaus Copernicus resided in the Bishop's castle at Lidzbark from 1503 to 1510?
The name "Heilsberg" appears on the wall of the Arc de Triomphe in Paris. This is a remembrance of one of the most significant victories of Napoleon's army.