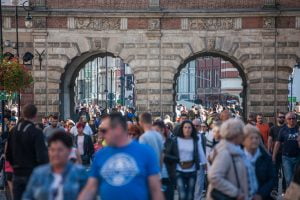 Can I drink tap water in Gdansk, Poland?
Gdansk tap water is an important issue for tourists. Many visitors who are traveling to Poland are asking very often about safety and

health matters. The most common, even one of the first questions concerns tap water drinking in Poland and in Gdansk. What is the answer?
Of course you can. Gdansk tap water is safe for drinking. The quality is very good, at least the same as botteled water avaliable in groceries. More than 50% of Gdansks inhabitants drinks tap water every day. Since 1992 SAUR Neptun Gdansk, part of French Saur Group is responsible for producing and supplying driking water and providing wastewater treatment services for the cities of Gdansk and Sopot. The ISO 22000:2005 certification awarded in 2010 gave the official stamp of approval to the quality of water supplied in Gdansk and Sopot.
Drinking tap water during your stay in Gdansk will reduce number of plastic bottles and help our environment. Most avaliable mineral water in local groceries are in plastic bottles. This issue is important because of large number of tourists visiting Gdansk. Sustainable tourism and decrease in plastic waste concerns local authorities.

If you didn't bring your own bottle, buy bottled water once in a local grocery and refill the bottle throughout your stay in Gdansk and other Polish cities.
Due to safety and hygienic reasons I used to provide botteled water for tourists and visitors I arrange trips in Gdansk. If you want to book one of my trips, please contact me and choose a trip that fits you best.
History of water supply network in Gdansk
The first modern water supply system in Gdansk/Danzig was delivered in 1879. At that time Gdansk was a German city named Danzig and the mayor was Leopold vin Winter. It was one of the first compeleted water supply and distribution systems in Europe. Thanks to this the morbidity has decreased in Danzig and epidemics have not returned.