COVID-19 Gdansk. What is current COVID-19 situation in Gdansk, Poland? Gdansk is one of the safest places in Poland to visit.
COVID-19 Gdansk update. Number of infected people in Gdansk is very low compared to other Polish cities. Present number of infected people in
Pomeranian Voivodeship is 107 people, including 20 persons hospitalized (24.07.2020). There are a few new COVID-19 infections per week in Gdansk.
On the 13th of June Poland has reopened its borders to UE citizens after almost three months. International flights has been resumed – but only to EU countries. This means quarantine for 14 days after arriving in Poland is not longer vailid.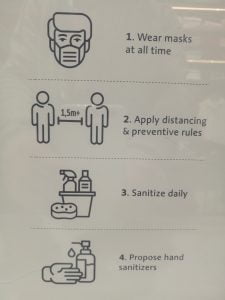 COVID-19 Gdansk rules.
REMEMBER ABOUT SOCIAL DISTANCE
DON'T FORGET FACE MASK
WASH YOUR HANDS
KEEP SMILING 🙂
From May 30th, hotels, hotel restaurants and bars are reopened and serve food to visitors.
There is no longer  obligation to cover mouth and nose in a restaurant or a bar (once you are seated). From May 30th, an obligation to cover mouth and nose in public space is lifted (provided that social distancing is kept). You can have a walk, ride a bike, walk in the street, in the park, on the beach or on the parking lot without a mask as long as you keep an adequate social distance (on a crowded pavement, you have to cover mouth and nose).
Mouth and nose should be covered in museums, public transport, shops, churches, cinemas and theatres.
All Gdansk Trips are avaliable for visitors. We have implemented following COVID-19 health and safety measures:
Face masks required for travelers in public areas

Regular temperature checks for staff

Guides required to regularly wash hands

Transportation vehicles regularly sanitized

Gear/equipment sanitized between use

Social distancing enforced throughout experience

Hand sanitizer available to travelers and staff

Face masks required for guides in public areas
Check COVID-19 Gdansk update informations HERE
Contact us to get more information about the current situation
COVID-19 Gdansk, Poland, update 25.07.2020.
.