Gdansk Airport taxi transfer to Gdansk Old Town.
Gdansk Airport official name is Gdansk Lech Walesa Airport (GND). The airport is located roughly 16 km from Gdansk Old Town. There are many ways to get to Gdansk Center – by train, by bus or by taxi. Taxi is the fastest way to get from the arrival terminal to Gdansk Old Town.
Gdansk Lech Walesa Airport (IATA: GDN) is located in Rebiechowo. Rebiechowo was a formerly a small village. Nowadays Rebiechowo is a Gdansk district where the airport is situated since 1970's. It is located 16 km from Gdansk Old Town, and the same distance from Sopot. The new terminal grand opening of the was in 2012, right before European Football Championships 2012.
Gdansk terminal is the 3rd biggest in Poland. It processed almost 5,5 million passengers and a record number of 88 air connections in 2019. Moreover, in 2019, the aircrafts made a total of 48.882 take-off and landing operations, the highest number in the company's history
Wizz Air and Ryanair low cost airlines are the biggest in Gdansk. SAS, KLM, Lufthansa and LOT airlines are providing daily routes between Gdansk and many European airports including Copenhagen, Amsterdam, Frankfurt, Warsaw, Stockholm and Oslo. The most popular international routes from Gdansk are of course London, Copenhagen, Oslo, Frankfurt and Stockholm.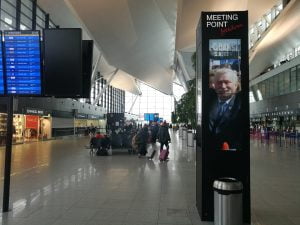 The transfer takes roughly 20 minutes to your hotel in Gdansk Old Town or a bit longer to Sopot. Transfer to other cities, for instance to Gdynia takes 30-40 minutes. Generally most of taxi drivers do can English. NEPTUN TAXI is Lech Walesa Gdansk Airport recommended company and only authorized to wait for the passengers at official taxi stand in the front the Arrivals terminal.

Depending on the date and time, going with a taxi to or from Gdansk Old Town you should reach in 20 minutes and the price is between 25-30 EURO/USD (120 – 135 PLN).
Feel free to contact us and pre-book taxi transfer from the Airport to your destination in Gdansk, Sopot, Gdynia or other city in Gdansk area and Pomeranian viovidship.